![if !IE]> <![endif]>
Caramelized Graham Crackers in Pure Milk Chocolate
$9.00
Caramelized Graham Crackers in Pure Milk Chocolate
$9.00
Baked from scratch, these treats have a delicious toffee-like flavor and a delicate buttery crunchiness...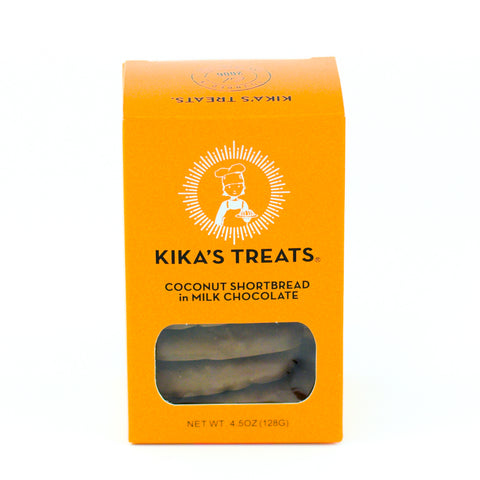 Coconut Shortbread in Pure Milk Chocolate
$9.00
Coconut Shortbread in Pure Milk Chocolate
$9.00
Smooth milk chocolate covers a deliciously crisp coconut shortbread, made with coconut flakes and rapadura,...
SHIPPING POLICY
Kika's Treats ships via USPS only to street addresses in Continental U.S. States. At this moment, Kika's Treats does not ship to International destinations or to P.O. Boxes and we apologize for the inconvenience.
We ship from Mondays through Thursdays. To limit time in transit and guarantee that your order will get to you in the best possible condition, we never ship over the weekends. All orders received will be processed within three business days.
Please arrange for someone to receive the package or advise the recipient that a package is due as we are not responsible for packages left unattended, stolen or damaged after they have been delivered to the address specified. Shipping costs will not be refunded.
Please review your shipping information carefully before submitting your order. We are not responsible for packages delayed or returned as undeliverable. Should a package need to be re-shipped, you will be contacted and a second shipping charge will apply. Unfortunately, we cannot guarantee quality of product that is re-shipped.